Entertainment
The Most Expensive and Exclusive Bodyguards in Hollywood
Celebrities reap numerous benefits from their careers, including wealth that most of us can only dream of, preferential treatment, and once-in-a-lifetime experiences. However, it comes at the expense of personal freedom. That is why so many celebrities must invest in high-level security. They can't go anywhere without bodyguards because they live in the spotlight. The following celebrities have the most expensive and exclusive bodyguards.
Adele
Adele has one of the best voices of her generation, and fans adore her down-to-earth personality. Her net worth is estimated to be around $190 million, so it stands to reason that she has hired security to follow her around at all times. In 2017, she hired Lady Gaga's former bodyguard Pete Van Der Been, who charges $70,000 per year.
Jennifer Aniston
Jennifer Aniston rose to international prominence as Rachel Green on the hit television show Friends. She hired the infamous celebrity bodyguard Sheldon in 2013 because she had become so well-known. He had previously worked with many celebrities, so Aniston knew he was the man to hire.
Rihanna
Rihanna is a megastar who requires strict protection surrounding her at all times. It is reported that she spends roughly $500,000 per year on security. Even if she's only traveling for a short trip, she has bodyguards with her.
Jennifer Lopez
Jennifer Lopez is a dancer, singer, and actress who has had a long and successful career. She has a net worth of $290 million, so it stands to reason that she spends a lot of money on security. She is rarely seen without her bodyguards.
Kesha
Kesha has been in the spotlight since she was a child, but because her career has not reached its height as it once did, she can afford to hire bodyguards and security only when she feels it is essential. She is frequently seen with bodyguards, and she always appears to be quite approachable and nice with them.
Meghan Markle
Meghan Markle rose to prominence through her parts on the television drama Suits. Her celebrity grew when she was linked to Prince Harry, and things reached new heights when she married him. They both require a high level of security, and it is estimated that they spend around $20 million on security each year.
Daniel Radcliffe
Daniel Radcliffe has been a well-known personality since he was a child, and he played Harry Potter in the Harry Potter film trilogy. He does not have round-the-clock protection, but he does engage guards when he believes it is essential. This is especially true while he is on the road.
Britney Spears
Britney Spears has been a paparazzi staple since she was a young phenomenon. She's been bothered by it for years, so it makes only sense that she devotes a lot of resources to strict security. It was estimated in 2009 that she spent $400,000 every year. That price is now anticipated to be around $600,000.
Jason Momoa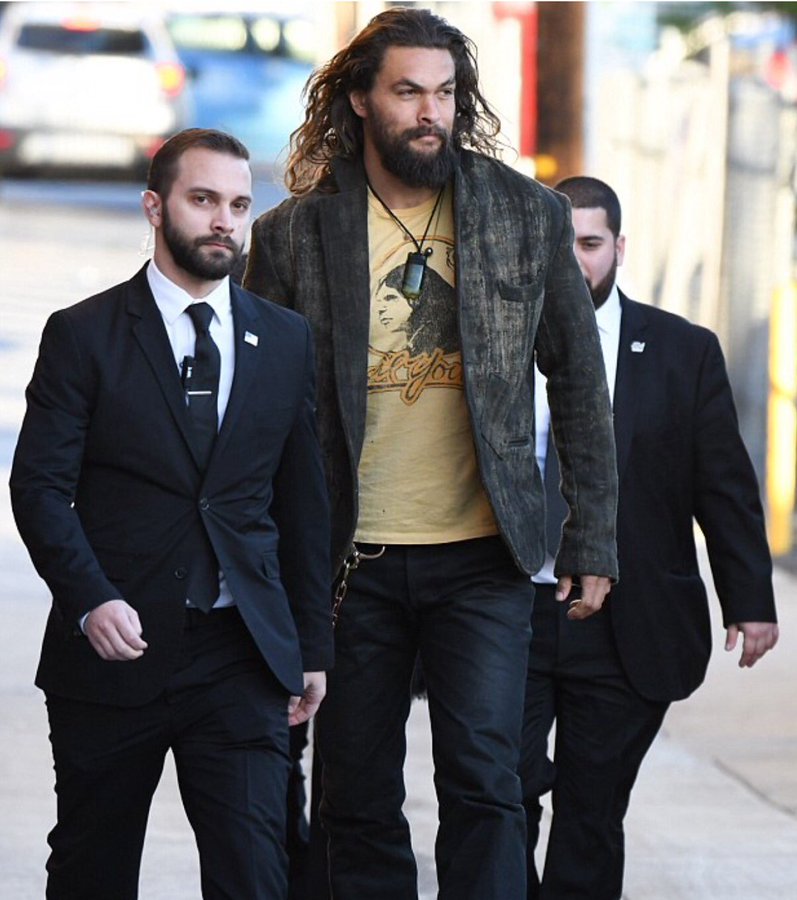 Even though Jason Momoa appears to be a bodyguard, he cannot go anywhere without security. He is frequently seen with security guards, especially since his fame has skyrocketed since his appearance in the Marvel universe.
Queen Elizabeth
It appears reasonable that the Queen of England requires round-the-clock security. Queen Elizabeth is always protected by the Queen's Guard. They are infantry men that guard her and the royal houses. They must adhere to the same rules that have been in effect since 1660. The Royal Family is believed to spend $138 million a year on security.
Cher
Cher has always been seen with security guards, and we even know her favorite bodyguard's name: Michael Francis. Cher stated in 2015 that her former firefighter bodyguard is "great" and has worked with stars such as "MJ Fox, Tina, Janet, and Countless Others."
Michael Jackson
When Michael Jackson was at the height of his fame, it was nearly impossible for him to get around without the assistance of a serious security team. It is reported that Jackson spent $1 million per year on security at the time. This comprised 24-hour home security, personal protection bodyguards, and other security measures.
Beyonce
Being one of the most famous people in the world ensures that the public is always eager to see you. Add to that the fact that she is married to Jay-Z, another of the world's most famous people, and the two require constant security. Every year, it is estimated that they spend millions of dollars on security.
Ryan Reynolds and Blake Lively
Another celebrity power couple is Blake Lively and Ryan Reynolds. They've both had a variety of bodyguards over the years, especially when they're out and about with their children.
Kate Middleton
England's future Queen consort Kate Middleton understands that security is one of the Royal family's top priorities. Millions of dollars are spent to protect her, Prince William, and their three children. Fortunately for them, the Crown pays for their costly security detail.
Floyd Mayweather, Jr.
Floyd Mayweather is a professional fighter, but that doesn't mean he doesn't need security. He's also known for carrying big sums of money with him. This is why he keeps a large security team around him at all times; he even dubbed his entourage "The Money Team." He pays them $150,000 per year and provides them with perks such as Rolex watches and Mercedes Benz vehicles.
Selena Gomez
Selena Gomez and her bodyguard are good friends. He invited her to his wedding and requested that she make a toast as well. "It's so special," she said, that she was able to be there and celebrate with them on their special day. It's natural for them to become close because they spend so much time together!
Madonna
Madonna is a legendary singer who transformed pop music and music videos. When it comes to her security, she takes no chances. She never leaves the house without her bodyguards, and she certainly spends a lot of money on the best security available.
Angelina Jolie
When Angelina Jolie and Brad Pitt married, they shared a bodyguard named Billy Billingham, who stated that the couple was very concerned about the safety of their children. He said Jolie's time management skills were out of this world, and it was incredible that she could do everything. Since the divorce, she has a new security team.
Bella Hadid
When Bella Hadid steps outside, she is frequently photographed, which is why she has hired a massive bodyguard to accompany her. Many people have compared him to Jason Statham.
Nicole Kidman
Nicole Kidman is a huge celebrity, and she and her husband Keith Urban are always surrounded by a large security team. In February 2021, while Kidman was in the audience at the Sydney Opera House, another audience member smacked her with a program. His seat was immediately removed by her bodyguards.
Scarlett Johansson
Scarlet Johansson always has a security team with her at all film premieres and vacations. In 2012, she was pictured soaking in some rays with her bodyguard. He was actually her boyfriend at the time as well, but the two broke up. She is now married to Colin Jost.
Justin Bieber
Justin Bieber always travels anywhere with security, since he is one of the most renowned persons in the world. Michael Arana, the leader of his security force, is also his personal bodyguard. Arana rose to prominence after beginning to work with Bieber, amassing 194,000 Instagram followers in the process.
Lady Gaga
Lady Gaga has had numerous bodyguards over the years. She has collaborated with Pete Van Der Veen, who has also collaborated with Adele. He is a skilled bodyguard who has also worked as a bodybuilder. He is so massive that he will undoubtedly scare anyone who tries to meddle with Gaga.
Kendall Jenner
Kylie Jenner has maintained strict security since becoming one of the most successful members of the Kardashian-Jenner family. She spends between $300,000 and $400,000 a month on security. It's fascinating that she has surpassed Kim's fame, and some could claim that she has even beyond her.
Kim Kardashian
Speaking of Kim Kardashian, she takes her security very seriously, especially after her theft in Paris in 2018. She spends roughly $7 million each year on round-the-clock security. This includes both her security and the security of her four children.
Jennifer Lopez
Jennifer Lawrence is accompanied by many bodyguards wherever she goes. It is reported that she spends around $125,000 each year on security.
Heidi Klum
Heidi Klum, a model, has had a great career in both modeling and the entertainment sector as a whole. She is rarely seen without a bodyguard. Martin Kirsten, her former security, no longer works for her.
Ezra Miller
Ezra Miller may portray the Flash, but that doesn't mean he doesn't require the services of a bodyguard. Gu Rubee, his bodyguard, has been described as a fashionista. So, everytime Miller is pictured with her security guy, he knows Rubee will seem just as fashionable as him.
Fergie
Fergie's private bodyguard Pascal isn't only a security guard; he's also a bit of a physician. On a trip with her husband Josh Duhamel in 2011, another passenger began having seizures. Pascal immediately humped in and assisted in moving the passenger closer to a doctor, who then performed life-saving CPR. Fergie said of the incident, "he's a hero!"
Drake
Drake is a tremendously successful rapper, therefore he naturally keeps a security team nearby. His squad appears to be really threatening, which is exactly the objective. "Bodyguards don't look like Kevin Costner," he sings in his song "Popstar."
Kristen Stewart
Kristen Stewart gained a household name after starring in the Twilight film series. She practically never leaves the house without her security. Fans have quickly noticed that her personal security guard is incredibly attractive, and have called him "HBG," or gorgeous bodyguard. He has also collaborated with Nina Dobrev, Emilia Clarke, and Melissa McCarthy.
Amber Rose
Amber Rose is always followed by her bodyguard, who is frequently seen wearing a shirt that says "MUVA," which is a moniker associated with Rose's brand. How encouraging! She has had a personal bodyguard since 2017 and has made care to maintain constant security, especially when her home was broken into.
Iggy Azalea
Iggy Azalea is quite concerned about her safety, especially now that she has a child. She frequently uploads images of her bodyguard and claims that many ladies have affections on him.
Amy Adams
Amy Adams is accompanied on red carpet events by a large security entourage. She may not have 24-hour protection, but she appears to be able to keep her personal life quiet. She has recruited security guards who have worked for other celebrities, so observant fans may identify them.
Taylor Swift
Taylor Swift's extraordinary celebrity has resulted in a swarm of supporters who refer to themselves as "Swifties." While that is fantastic, it also means Swift must be cautious, which is why she has two bodyguards with her at all times.
Katy Perry
Katy Perry is frequently seen out and about with her bodyguard, who many claim resembles a young Hugh Jackman. Perry is said to have expanded her security detail after having her first child in 2020, which makes sense.
Barbara Streisand
Barbra Streisand is a true celebrity, and she routinely attends public events and award shows, always accompanied by security. She even took them with her when she went to Walmart. She understands that the reality of her celebrity requires her to be cautious.
Victoria and David Beckham
David and Victoria Beckham are two of the world's most recognized persons. He was a previous top soccer player, and she was a Spice Girl who is now a fashion magnate. As a result, they spent $1 million on enhanced security in 2014, and guardhouses will be erected on their property by 2020. They are also constantly accompanied by security.
Halle berry
Academy Award winner Halle Berry has been in the entertainment industry for almost 30 years and is no stranger to paparazzi scrutiny. has had a number of bodyguards over the years. She goes everywhere with them, even treks.